I said "NO!"  I imagine everyone else said "No."  Why would anyone want to work for this Front Office?  They wouldn't.  They'd be crazy to.  I believe the front office had some feelers out there, but none of them panned out.  They all ultimately had to say no.  One candidate after another:
So what's a Cheap Owner to do??  With no options left Bob Nothing and Neal Nothington probably figured that they'll stick with Good Ol' Clint.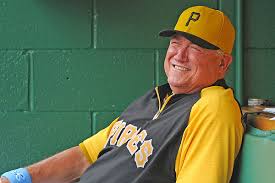 And Hurdle ends up laughing all the way to the bank with a FOUR YEAR extension.  Bring on the mediocrity for another four years!  If your theory is not that ownership tried to find someone else, that they wanted Clint to continue and they have complete confidence in his leadership and decision-making, then you have accepted life in a Bizarro World.  Allow me to explain, but first a couple of questions:
 Does a car salesman who sells the fewest cars get a big bonus?  (No in Real World)
 Does the laborer who sleeps on the job get a promotion?  (No in Real World)
In the Bizarro world we have two questions:
 Do washed up, sub-200 hitters on the Pirates get to start regularly?  (YES)
And how shall we deal with a manager who posts a losing record for the 12th time in 16 years as a manager?  (Re-Up him for 4 more years!?)
From 2002 through 2017 just 4 winning records
No team he has managed ever finished first in their division.  (Rockies were a wild card team in 2007 and got hot to reach the series)
Only manager in the history of managing baseball to have 5 straight losing seasons in his first 5 of managing and NOT get fired (Associated Press article from 2009)
And let's remember his judgment.  (Slow to recognize the obvious)
And his leadership (No discipline.  Everyone gets a participation trophy)
And the circus like shuffling of the line up.  (Who's on First, What's on Second, I Don't Know's on Third)
And on and on and on.  But, lousy, cheap ownership begets lousy management.  So I'm not surprised.  If you like mediocrity, you are assured of it for four more years.
As for today's game.  The Bucs won their third straight with the biggest home shutout since 1972, beating the Cubs 12-0.  Every position player in the line up for the Pirates had at least two hits.  Except one player.   Yes, Where's Waldo Rodriguez put up his usual 0-fer going 0 for 5 with 2 strike outs.  He is hitting .174.  Enough already.
---