We saw all Three Stooges play in the opening game with the Cincinnati Reds last night.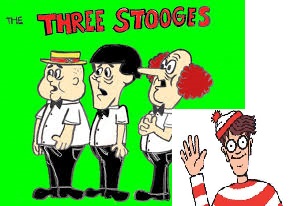 Stewart, Moroff, Jaso ……….Also Where's Waldo Rodriguez played last night!
And the result????  9-5 CINCINNATI REDS.  No mystery here, the Reds played a FAR superior line up than Stewart (.191), Moroff (.149), Jaso (.216) and Waldo (.197).  Do you know how many players in the Cincinnati line up last night have an average under .237?  NONE.  And, the Reds boast 3 guys in the line up with a batting average ABOVE ANY in the Bucs line up.  Gennet at .286, and over .300 hitters Votto and Cozart.
HELL YES WE LOST!  You know who WAS NOT in the Bucs starting line up?
Andrew McCutchen, who "needed" a day of rest from that grueling 40 minute flight from Pittsburgh to Cincinnati.  How can ownership and management argue that they are definitely "going for it" and trying to compete for the division?  You'd have to be nuts to believe that.  You don't rest a healthy Cutch if that were true.  I say:  TELL THE TRUTH that you know you are toast and lets play Moroff and guys like Diaz who could be the future of the team.  (Oh that's right, Diaz was sent back to AAA Indy to make room for Cervelli's three innings he lasted last night).  And for God's sake recognize that just like Bell being a part of the future, your highest hitting player on the team is Frazier at .284.  (and he is hitting over .340 since the All-Star break).  PLAY HIM EVERY EVERY EVERY DAY!
As for the other 2 Stooges and Waldo, we know what they bring to the table, and they do not represent the future of the Bucs.  Give them a rest MOST nights (I would NEVER play Jaso or Stewart for the record) and let the new guys show what they can do and gain some experience.
As for Manager Hurdle:  Recognize as Colorado did…that he is not the future either!
---