Seany, wanna play shortstop today?  Seany, wanna play right field tonight?  Want a gatorade Seany?  He's just gaga over this new toy on the team.  It's embarrassing to watch.  I used to complain about all of the "regular" days off for every starter when the replacement was Moroff too often.  Now it appears that Sean Rodriguez is the replacement for everyone.  Shortstop, yesterday…right field tonight.  What will tomorrow bring?  Now I know he is a fan favorite and he did have the game winning hit the other day, but he's not Ty Cobb.  He hits .167 this year and is a career .232 hitter.  His lone hit since being back is that one home run.
Frazier now sits for the third game in a row.  He's is the highest hitting player at .438 since the All-Star Break.  Frazier has to be wondering what else he can do to stay in the lineup.  He plays 4 positions and hits a ton.  Clint has a way of cooling off a hot hitter with time off.  Only Cutch has a higher team batting average overall than Frazier:
Cutch:   291
Frazier: .284
Harrison: .278
PLAY THE GUYS WHO HIT THE MOST !!
And apparently, Rodriguez will stand in for any player any day.  Tonight Bell sits ..251 (nothing wrong with the switch hitter), Polonco sits..260.. (nothing wrong with him either).  Yesterday Mercer sat.  .257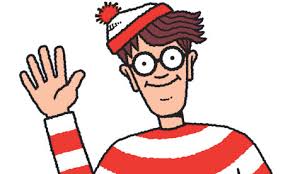 This Rodriguez is turning into the "full time replacement" for whoever Clint thinks needs a rest.  He's not the second coming of Jesus  (though he does look a little like him).  What HE IS is the second coming of Where's Waldo.  Look at the field.  Short stop yesterday, right field tonight.  Where will he be tomorrow.  Let's cut to the chase and just get him that red and white striped outfit to make it easier on fans.
---